Provides Exceptional Industry Products
Leading Expert In Piping Solutions
Finest Steel & Alloy Manufacturer
Delivering Steel Products On Time
ISO Certified & Approved Manufacturer & Supplier
Beryllium Copper Rod and Beryllium Copper Bar
C17460 Round Bar Manufacturers, C17460 Beryllium Copper Rod Beryllium Copper Alloy 390 C17460 Round Bar Exporters, UNS C17460/CDA 172 Round Rods, Importers, C17460 Round Bar Suppliers and Stockists

Beryllium Copper Alloy 390, C17460 Round Bar Manufacturers In Mumbai, Alloy 25 Welding Rods, C17460 Spring Steel Bars, C17460 Round Bars Importers and Stockists In Mumbai.
Introduction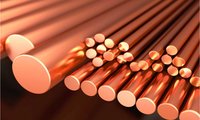 CuBe2 – C17200 (CDA 172) Beryllium Copper is the most regularly used Copper Beryllium compound and is remarkable for its most astounding quality and hardness contrasted with business copper amalgams. Kalpataru Piping is one of the biggest manufacturer, supplier, exporter and stockist of beryllium copper rods, beryllium copper bar, beryllium copper c17200 rods, beryllium copper c17200 bars, beryllium copper alloy 25 rod in India as well as all over the globe as per customer requirement. C17200 combination contains appr. 2% of beryllium and accomplishes its definitive elasticity can surpass 200 ksi, while the hardness approaches Rockwell C45. In the interim, the electrical conductivity is at least 22% IACS in the completely matured condition. C17200 likewise displays uncommon protection from stress unwinding at raised temperatures.
Alloy 390 copper-beryllium compound UNS C17460 combines the high quality of Alloy 25 (C17200) with the electrical conductivity of Alloy 3 or Alloy 174 to create Alloy 390 copper-beryllium compound UNS C17460 (C17410 and C17510). Compound 390E provides incremental formability while maintaining the quality and high conductivity of Alloy 390.
When these mixes are employed for close to nothing, structural factor sign, and power interconnects in harsh environments, the combination of these qualities allows for greater arrangement diversity.
Specification
Rods/Bars/Tubes: ASTM B196, 251, 463; SAE J461, 463; AMS 4533, 4534, 4535; AMS4650, 4651;
RWMA Class 4
European Standards: CuBe2, Alloy 25, QBe2,BrB2,DIN 2.1247, CW101C to EN
Available Sizes: Custom Diameter & Sizes, Random Mill lengths
Available Products (forms): Rod, Bar, Round bars, Flat bars, Square bars, Rectangular bars, Hexagon bars, Solid bars, Hollow bar, Pipes
Custom shapes are available upon request.
CuBe2 – C17200 (Alloy 25) Beryllium Copper Rod Chemical Composition:
| | | | | |
| --- | --- | --- | --- | --- |
| Grade | Be | Co+Ni | Co+Ni+Fe | Cu |
| C17200 | 1.85-2.10% | 0.20% Min. | 0.60% Max. | Balance |
CuBe2 – C17200 (Alloy 25) Beryllium Copper Rod Typical Physical Properties:
| | | | | | | |
| --- | --- | --- | --- | --- | --- | --- |
| Grade | Density (g/cm3) | Density before age hardening (g/cm3) | Elastic Modulus (kg/mm2 (103)) | Thermal Expansion Coefficient (20 °C to 200 °C m/m/°C) | Thermal Conductivity (cal/(cm-s-°C)) | Melting Range (°C) |
| C17200 | 8.36 | 8.25 | 13.40 | 17 x 10-6 | 0.25 | 870-980 |
CuBe2 – C17200 (Alloy 25) Beryllium Copper Alloys Rods Mechanical Properties:
The Mechanical Properties will be available on request from customers.
Typical Application for C17200 Beryllium Copper Alloys Rods:
Electrical Industry: Electrical Switch and Relay Blades, Fuse Clips, Switch Parts, Relay parts, Connectors, Spring Connectors, Contact Bridges, Belleville Washers, Navigational Instruments, Clips
Fasteners: Washers, Fasteners, Lock Washers, Retaining Rings, Roll Pins, Screws, Bolts
Industrial: Pumps, Springs, Electrochemical, Shafts, Non-Sparking Safety Tools, Flexible Metal Hose, Housings for Instruments, Bearings, Bushings, Valve Seats, Valve Stems, Diaphragms, Springs, Welding Equipment, Rolling Mill Parts, Spline Shafts, Pump Parts, Valves, Bourdon Tubes, Wear Plates on Heavy Equipment, Bellows
Marking & Packing Of Beryllium Copper Rods:
Kalpataru Piping Solutions Pack Beryllium Copper Rods Properly And Carefully To Ensure That There Is No Damage To The Beryllium Copper Rods During The Transit. We Pack Beryllium Copper Rods In Wooden Boxes And Supply It All Over The World.
High-Quality Beryllium Copper Rods – Quality Assurance!
Kalpataru Piping Solutions Is One Of The Most Trusted Exporter, Supplier, Stockist & Manufacturer Of Beryllium Copper Rods. Kalpataru Piping Solutions Offers High-Quality Beryllium Copper Rods. We Inspect Our Beryllium Copper Rods At Each Stage Of Production Process To Make Sure That The Quality Of The Beryllium Rods Is Not Compromised. They Are Examined To Confirm Their Standards And We Also Offer Third Party Inspection Of Our Beryllium Copper Rods On Demand Of Our Clients. Kalpataru piping solutions even Offer Test Certificates For Our Beryllium Copper Rods.
We Pack Beryllium Rods Properly And Carefully To Ensure That There Is No Damage To Beryllium Copper Rods During The Transit. We Pack Copper Rods In Wooden Boxes And Supply It All Over The World.
Why Choose Kalpataru Piping Solutions For Buying Beryllium Copper Rods?
Huge Stock Of Beryllium Copper Rods.
Large Production Capacity Of Beryllium Copper Rods
Kalpataru Piping Solutions Offer Highest Quality Beryllium Copper Rods At Lowest Price
We Offer Customised Sizes For Beryllium Copper Rods Depending On Our Clients Requirement
Kalpataru Piping Solutions Offer High-Quality Beryllium Copper Rods With Test Certificates. We Even Allow Third Party Inspection.
Cities We deliver:
Bhopal, Lahore, Milan, Hyderabad, Pune, Vadodara, Pimpri-Chinchwad, Aberdeen, Howrah, Jeddah, Riyadh, Bogota, Petaling Jaya, Dallas, Lagos, Nagpur, Houston, Brisbane, Busan, Karachi, Coimbatore, Seoul, Caracas, Atyrau, Perth, Haryana, Bengaluru, Jaipur, Al Jubail, Kuwait City, Al Khobar, Sydney, Ranchi, Chiyoda, Noida, Chandigarh, Secunderabad, Ahvaz, Port-of-Spain, Singapore, Gurgaon, Rajkot, Rio de Janeiro, Abu Dhabi, Hong Kong, Surat, Sharjah, Hanoi, London, Muscat, Jakarta, Navi Mumbai, Istanbul, Kolkata, Cairo, Mumbai, Santiago, Montreal, Faridabad, Vung Tau, Bangkok, Ankara, Ahmedabad, Granada, Melbourne, Tehran, Visakhapatnam, New Delhi, Los Angeles, Ho Chi Minh City, Edmonton, La Victoria, Baroda, Thane, Nashik, Kuala Lumpur, Moscow, Ernakulam, Courbevoie, Calgary, Geoje-si, Indore, New York, Mexico City, Gimhae-si, Ludhiana, Kanpur, Ulsan, Thiruvananthapuram, Manama, Doha, Chennai, Madrid, Jamshedpur, Algiers, Dammam
Countries We Deliver:
Iran, Venezuela, Saudi Arabia, Slovakia, Romania, Zimbabwe, Spain, Kazakhstan, Canada, Nigeria, Bulgaria, Afghanistan, Thailand, Bangladesh, Poland, United Kingdom, Bahrain, Jordan, Lithuania, Malaysia, France, Nigeria, Japan, Oman, Lebanon, Germany, Croatia, Australia, Puerto Rico, South Korea, Hungary, United States, Bhutan, Mexico, Mexico, Yemen, Singapore, New Zealand, Ecuador, Gabon, Qatar, Denmark, Iran, Netherlands, Norway, Sri Lanka, Belgium, Libya, Kuwait, Pakistan, Gambia, Sweden, Azerbaijan, Argentina, Chile, Ghana, United Arab Emirates, Finland, Nepal, Trinidad andamp; Tobago,Tunisia, Kenya, Peru, Austria, Russia, Ukraine, Italy, Belarus, Bolivia, Serbia, Poland, Mongolia, Turkey, Czech Republic, South Africa, Angola, India, Vietnam, Indonesia, Tibet, Ireland, Costa Rica, Greece, Colombia, Namibia, Iraq, Estonia, Israel, Macau, Philippines, Brazil, Switzerland, Algeria, Morocco, Chile, Portugal, Egypt, Taiwan, China, Hong Kong.