Provides Exceptional Industry Products
Leading Expert In Piping Solutions
Finest Steel & Alloy Manufacturer
Delivering Steel Products On Time
ISO Certified & Approved Manufacturer & Supplier
Brass Pipes & Brass Tubes
Brass Pipe Manufacturer, ASTM B135 Brass Tubes Supplier, Brass Hexagonal Tubes, Brass Round Pipe, ASTM B43 Brass 63/67 Seamless Pipes and Tubes, Seamless Pipes Exporter in Mumbai, India.

UNS C36000 Brass Pipes, UNS C27200 Pipes Dealers in Uk, Brass Welded Tubes, Brass Welded Supplier, Brass Cold Drawn Pipes Exporter, Brass Alloy 63-67 Pipes and Tubes, Brass 63/67 Polish Tubing Suppliers in Europe, Brass Hollow Tubes, Brass ASME SB36 Pipe Manufacturer in Australia.

Brass Tube Manufacturer in India, Brass Pipes Supplier in UAE, Welded Brass Tube Exporter, Brass EFW Pipe, Brass ERW Tube, 63/67 Brass Rectangle Tubes Exporter in France, DIN 934 Brass Tubing Manufacturer in Europe.

Introduction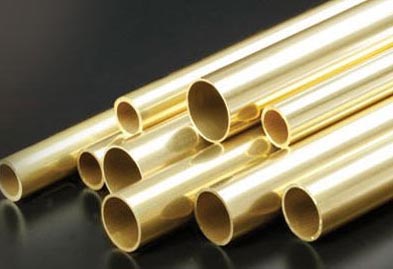 Kalpataru Piping is one of the proud Brass Pipe Manufacturer, Brass Tube Supplier & Exporter in India. Brass is composed of copper and zinc and is valued for its corrosion resistance, workability, hardness & attractive appearance. We offer a broad line of brass pipes & brass tubes, which are suited for numerous commercial/industrial works. Brass has higher malleability than bronze or zinc. The relatively low melting point of brass (900 to 940 °C, 1,650 to 1,720 °F, depending on composition) and its flow characteristics make it a relatively easy material to cast. By varying the proportions of copper and zinc, the properties of the brass can be changed, allowing hard and soft brasses. Brass Welded Pipes has some excellent features to offer such as Corrosion & abrasion resistance, Longer life, Lightweight, and more. Our product is checked on several quality parameters by our quality controllers so as to ensure its flawlessness. Brass Seamless Tubes are also made available by us in different finish specifications so as to match up with the demands of different customers from different industries. As a leading Brass Tube Manufacturer in India, we offer these products in different sizes, grades, specifications & thicknesses as per the client's requirements.
We, Kalpataru Piping Solutions, have a skilled team that analyses the quality standard and checks the brass pipe's ability to last. Our skilled team members supervise the production unit on a regular basis to analyze and check the flow of production. They never compromise on reaching the specified criteria and present our clients with the most efficient, vulnerable, and helpful product possible. Before delivering the product, our experienced staff thoroughly examines Brass Pipe 63/37 using the most up-to-date procedures, conducts certain tests, and, if any defects or adjustments are required, they modify it before delivering it to the chosen client in standard packaging. We also deliver to our customers' doorsteps without causing any damage. We even use conventional packaging material to mark the products according to the norms and regulations, as well as the customer's needs. A great deal of care has been taken to avoid any harm that may occur during storage or shipment. Brass Pipe 63/37 is in stock at Kalpataru Piping Solutions to meet our client's immediate needs.
Features of Brass Pipes & Brass Tubes:
High resistance to pitting & stress corrosion cracking.
Good workability, weld-ability & durability.
Low thermal expansion, good heat conductivity.
Exceptional thermal resistance and chemical resistance.
Brass Pipe & Brass Tube Application
Pipe Fittings,

Furniture & Lighting Fixtures,

Architectural Grill Work,

General Engineering Industry,

Imitation Jewellery etc.
Brass Pipe & Brass Tube Specification
| | |
| --- | --- |
| BRASS ALLOY PIPES | C230 Brass Pipe, C23000, Cuzn37 Brass Pipe |
| BRASS ALLOY TUBES | ASTM B135, 443 / C443 / C44300 Brass Tube, ASTM B111, ASME SB111, 330 / C330 / C33000 Brass Tube, 272 / C272 / C27200 Yellow Brass Tube |
| PIPE SIZE | 1.5mm to 22.2mm (1.5mm to 150mm) |
| THICKNESS | 0.4 mm to 2.5 mm length 4 mtr, 5 mtr, 10 mtr, 15 mtr, 20 mtr, 50 mtr, 100 mtr |
| FORM | Round, Square, Rectangular |
| LENGTH | Single Random, Double Random & Cut Length |
| END | Beveled End, Plain End, Treaded |
| APPLICATION | Architecture, Conduit, Fasteners, Fire Extinguishers, Plumbing, Pump Cylinder Liners, J Bends, Heat exchange shells, Distiller Tubes. |
Available Types of Brass Pipes & Brass Tubes
| | |
| --- | --- |
| Seamless Brass Pipe | Brass Seamless Tubing |
| B36 Brass Seamless Pipe | ASTM B135 Brass Seamless Pipes |
| ASME SB36 Brass Seamless Tube | Welded Brass Pipe |
| Brass Welded Tubing | Brass ERW Pipe |
| Brass EFW Pipe | B135 Brass Welded Pipe |
| ASTM B36 Brass Welded Pipes | ASTM B36 Brass Welded Tubes |
| Round Brass Pipe | Brass Round Tubing |
| ASTM B135 Brass Round Pipes | B36 Brass Custom Pipe |
| ASME SB36 Brass Round Tubes | ASME SB135 Custom Brass Pipes |
Cities We deliver
Bhopal, Lahore, Milan, Hyderabad, Pune, Vadodara, Pimpri-Chinchwad, Aberdeen, Howrah, Jeddah, Riyadh, Bogota, Petaling Jaya, Dallas, Lagos, Nagpur, Houston, Brisbane, Busan, Karachi, Coimbatore, Seoul, Caracas, Atyrau, Perth, Haryana, Bengaluru, Jaipur, Al Jubail, Kuwait City, Al Khobar, Sydney, Ranchi, Chiyoda, Noida, Chandigarh, Secunderabad, Ahvaz, Port-of-Spain, Singapore, Gurgaon, Rajkot, Rio de Janeiro, Abu Dhabi, Hong Kong, Surat, Sharjah, Hanoi, London, Muscat, Jakarta, Navi Mumbai, Istanbul, Kolkata, Cairo, Mumbai, Santiago, Montreal, Faridabad, Vung Tau, Bangkok, Ankara, Ahmedabad, Granada, Melbourne, Tehran, Visakhapatnam, New Delhi, Los Angeles, Ho Chi Minh City, Edmonton, La Victoria, Baroda, Thane, Nashik, Kuala Lumpur, Moscow, Ernakulam, Courbevoie, Calgary, Geoje-si, Indore, New York, Mexico City, Gimhae-si, Ludhiana, Kanpur, Ulsan, Thiruvananthapuram, Manama, Doha, Chennai, Madrid, Jamshedpur, Algiers, Dammam
Countries We Deliver
Iran, Venezuela, Saudi Arabia, Slovakia, Romania, Zimbabwe, Spain, Kazakhstan, Canada, Nigeria, Bulgaria, Afghanistan, Thailand, Bangladesh, Poland, United Kingdom, Bahrain, Jordan, Lithuania, Malaysia, France, Nigeria, Japan, Oman, Lebanon, Germany, Croatia, Australia, Puerto Rico, South Korea, Hungary, United States, Bhutan, Mexico, Mexico, Yemen, Singapore, New Zealand, Ecuador, Gabon, Qatar, Denmark, Iran, Netherlands, Norway, Sri Lanka, Belgium, Libya, Kuwait, Pakistan, Gambia, Sweden, Azerbaijan, Argentina, Chile, Ghana, United Arab Emirates, Finland, Nepal, Trinidad andamp; Tobago,Tunisia, Kenya, Peru, Austria, Russia, Ukraine, Italy, Belarus, Bolivia, Serbia, Poland, Mongolia, Turkey, Czech Republic, South Africa, Angola, India, Vietnam, Indonesia, Tibet, Ireland, Costa Rica, Greece, Colombia, Namibia, Iraq, Estonia, Israel, Macau, Philippines, Brazil, Switzerland, Algeria, Morocco, Chile, Portugal, Egypt, Taiwan, China, Hong Kong.