Provides Exceptional Industry Products
Leading Expert In Piping Solutions
Finest Steel & Alloy Manufacturer
Delivering Steel Products On Time
ISO Certified & Approved Manufacturer & Supplier
Stainless Steel 304/304L/304H, 316/316L/316Ti, 321/321H, 310/310S, 317/317L,347/347H, 446, 17-4 PH,15-5 PH, Nitronic 50, 60 Filler Wire
ASTM A580 304 Stainless Steel Wires, SS 304H Stainless Steel Filler Wires, UNS S30403 Wires, SS 30409 Wleding Electrode, SS 30400 Filler Wires, WNR. 1.4301 Welding Wires, WNR. 1.4306/1.4307 Electrode, WNR. 1.4301 Filler Wires, SS 304/304H/304L Filler Wires, SS 304/304H/304L Filler Wires Manufacturer, Supplier & Exporter in Mumbai, India.

Introduction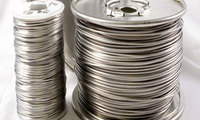 Kalpataru Piping is a leading Manufacturer, Exporter, Supplier and Stockist of Stainless Steel 304/304l/304 filler wire in India. Stainless Steel 304/304l/304 filler wire are used where the properties of steel and corrosion resistance are required.. Heat treatment (solution annealing) of Stainless steel Wire has to be done if the technical standard specify about the same. Normally stainless steel 304/304l/304h filler Wire are being heat treated with water quenching process. These Wire have to be heated up to 1080 degree Celsius temperature and thereafter it has to drop the temperature by water quenching process. These process is being conducted on stainless Bright Wire on as rolled condition. . These Stainless Steel 304/304l/304 filler wire are used because they are not sensitive to intergranular corrosion after heating within the carbide precipitation range of 425 Degree C – 850 Degree C. 304H SS Welding Wires has the higher carbon content, which makes it ideal for applications requiring good mechanical properties at elevated temperatures. Stainless Steel 304 Wires exhibit excellent resistance to a wide range of atmospheric, chemical, textile, petroleum industry, and food industry exposures. We also offer Stainless Steel 304/304l/304 filler wire who doesn't require post-weld annealing, and is widely used in heavy-gauge components where its immunity to carbide precipitation is needed. We offer wide range of ss filler wires such as Stainless Steel 304/304L/304H Filler wire, Stainless Steel 316/316L/316Ti filler wire, Stainless Steel 304/304l/304 filler wire, Stainless Steel 310/310S filler wire, Stainless Steel 317/317L filler wire, Stainless Steel 347/347H filler wire, Stainless Steel 446 filler wire. These stainless steel 304 filler wire, stainless steel 304l filler wire, stainless steel 304h filler wire are available in various sizes, shapes as per the requirements of our clients.
ASTM A164 Stainless Steel Wires Specification
Dimensions : ASTM, ASME and API
Specifications : ASTM A164 / ASME SA164
Size : 0.08 mm to 25.00 mm
Diameter Range : 0.040 mm – 12 mm (0.0016" – 0.4724")
Hardness : Soft, 1 / 4 Hard, 1 / 2 Hard, 3 / 4 Hard & Full Hard
Finish : Bright, Matte Finish, Soap Coated or Electro Polish Quality
Grades : AISI 304, 304L, 304H, 309S, 309H, 310S, 310H, 316, 316TI, 316H, 316L, 316LN, 317, 317L, 321, 321H, 347, 347H
Types Of Available Products Stainless Steel Wire
Stainless Steel AISI 304 Wire
Stainless Steel AISI 304L Filler Wire
ASTM A164 Stainless Steel Welding Wire
A164 SS Cold Heading Wires
ASTM A164 310S Stainless Steel Wire Mesh
A164 SS 310 Spring Wires
ASTM A164 316 Stainless Steel Bright Wires
AISI 321 Wire Bobbin
Stainless Steel 321H Rope Wires
ASTM A164 316TI Stainless Steel Wire Coil
TP 316L Stainless Steel Wire Rope
TP 316H Stainless Steel Lashing Wire
Top Quality Stainless Steel Tig Wires
Stainless Steel 317L Redrawing Wires
Countries We Deliver
Iran, Venezuela, Saudi Arabia, Slovakia, Romania, Zimbabwe, Spain, Kazakhstan, Canada, Nigeria, Bulgaria, Afghanistan, Thailand, Bangladesh, Poland, United Kingdom, Bahrain, Jordan, Lithuania, Malaysia, France, Nigeria, Japan, Oman, Lebanon, Germany, Croatia, Australia, Puerto Rico, South Korea, Hungary, United States, Bhutan, Mexico, Mexico, Yemen, Singapore, New Zealand, Ecuador, Gabon, Qatar, Denmark, Iran, Netherlands, Norway, Sri Lanka, Belgium, Libya, Kuwait, Pakistan, Gambia, Sweden, Azerbaijan, Argentina, Chile, Ghana, United Arab Emirates, Finland, Nepal, Trinidad andamp; Tobago,Tunisia, Kenya, Peru, Austria, Russia, Ukraine, Italy, Belarus, Bolivia, Serbia, Poland, Mongolia, Turkey, Czech Republic, South Africa, Angola, India, Vietnam, Indonesia, Tibet, Ireland, Costa Rica, Greece, Colombia, Namibia, Iraq, Estonia, Israel, Macau, Philippines, Brazil, Switzerland, Algeria, Morocco, Chile, Portugal, Egypt, Taiwan, China, Hong Kong.
Cities We deliver
Bhopal, Lahore, Milan, Hyderabad, Pune, Vadodara, Pimpri-Chinchwad, Aberdeen, Howrah, Jeddah, Riyadh, Bogota, Petaling Jaya, Dallas, Lagos, Nagpur, Houston, Brisbane, Busan, Karachi, Coimbatore, Seoul, Caracas, Atyrau, Perth, Haryana, Bengaluru, Jaipur, Al Jubail, Kuwait City, Al Khobar, Sydney, Ranchi, Chiyoda, Noida, Chandigarh, Secunderabad, Ahvaz, Port-of-Spain, Singapore, Gurgaon, Rajkot, Rio de Janeiro, Abu Dhabi, Hong Kong, Surat, Sharjah, Hanoi, London, Muscat, Jakarta, Navi Mumbai, Istanbul, Kolkata, Cairo, Mumbai, Santiago, Montreal, Faridabad, Vung Tau, Bangkok, Ankara, Ahmedabad, Granada, Melbourne, Tehran, Visakhapatnam, New Delhi, Los Angeles, Ho Chi Minh City, Edmonton, La Victoria, Baroda, Thane, Nashik, Kuala Lumpur, Moscow, Ernakulam, Courbevoie, Calgary, Geoje-si, Indore, New York, Mexico City, Gimhae-si, Ludhiana, Kanpur, Ulsan, Thiruvananthapuram, Manama, Doha, Chennai, Madrid, Jamshedpur, Algiers, Dammam