Adding an inside coating to pipes can help protect them from corrosion, improve flow, and decrease the accumulation of deposits. FBE Coating and Glass flake Coatings are amongst the two popular examples of internal pipe coatings.
Internal Coatings Have a Specific Purpose:-
Internal corrosion mitigation in pipes
Flow enhancement
To reduce the production of deposits
Pipe Varieties Linings / Internal Coatings:-
Epoxy Fusion Bonded (FBE) Coating
Coatings using Glassflake (Chemflake, Belzona, etc)
Lining (Polyethylene) | ROTO Lining
Epoxy Coating Bonded by Fusion Welding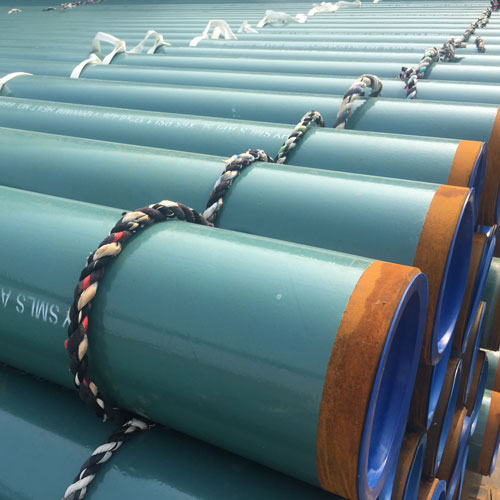 FBE is a sort of high-performance coating manufactured from anti-corrosion powder that can withstand temperatures of up to 350 degrees Celsius. This coating can withstand temperatures up to 80 degrees Celsius.
Instructions for Using FBE Coatings
Before blast cleaning, a visual inspection is necessary to ensure that the surface is free of oil and grease. To remove rust, scale, and any other foreign matter from the pipe's surface, it must be blast cleaned. This gives the surface a tough appearance. This sort of coating requires a roughness value of between 50 and 100 microns. Spray guns are used to paint pipe interiors after they have been cleaned with a blast of compressed air. This aids in the even distribution of the coating on the heated pipe. The pipe rotates along its longitudinal axis on a regular basis. When it comes into contact with the hot surface, the powder melts and becomes a liquid. The liquid FBE coating adheres to the pipe's surface and hardens into a solid layer in a matter of seconds. Fusion Bonding is a technique that uses this method.
FBE Coatings provide many advantages:-
Higher temperatures are no problem for this finish.
This coating is resistant to corrosion.
It can be used on pipes ranging in diameter from 2 inches to 48 inches.
A wide range of thicknesses can be accommodated by this product.
Under soil circumstances, it offers chemical resistance as well as strong impact resistance.
FBE Coatings' limitations:-
Pipes coated with FBE have a maximum life of 12 years, and plants are designed to last for 25 years. Once in a while, the pipe needs to be replaced.
It's got a lot of detail to it.
Applicators are difficult to come by.
Coating with internal glass flakes:-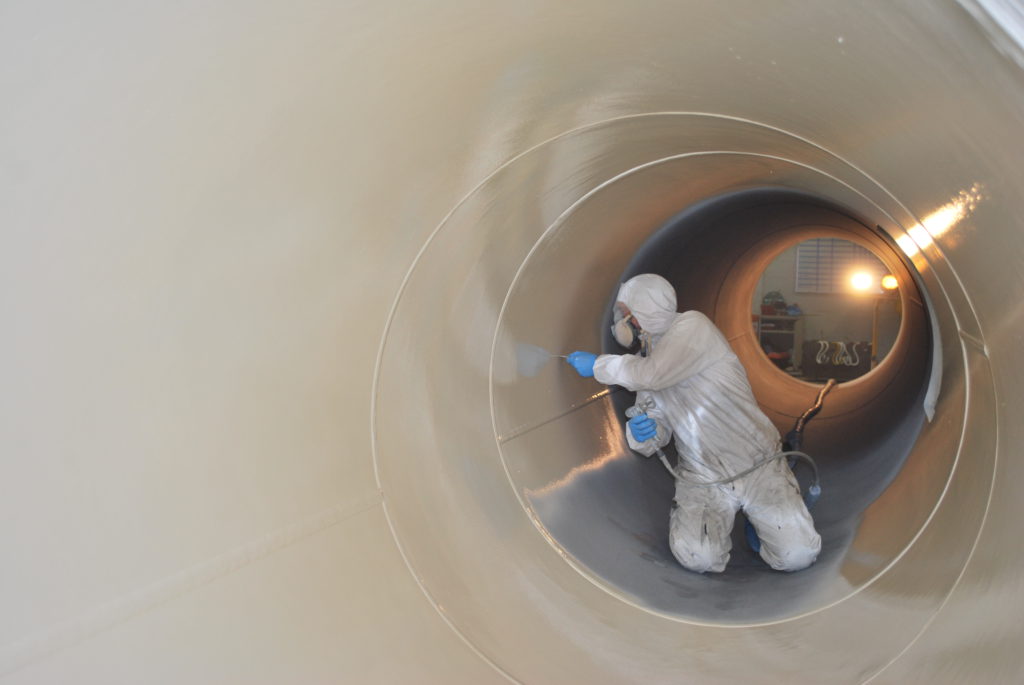 PCS-8 of SP-1246 refers to it as Chemflake/Belzona coating. Generally speaking, this type of coating can withstand temperatures up to 93 °C. Pipes with larger diameters can benefit from an inside coating of glass flakes. The flanged pipe spool is usually used to connect non-flanged pipe spools.
Application of an Internal Glass Flake Coating
Internal glass flake coatings can be applied or used in the following manners:-
The blast cleaning process is used to achieve a roughness value between 75 and 130 microns.
Airless spray apparatus is used for spraying.
Brush: It's best to use a brush to apply stripe coating and to apply small sections of coating. To ensure that the desired dry film thickness is achieved, care must be taken.
The drying time for a single application is approximately 24 hours.
Benefits of Glass Flake Coating Internally:-
It has great chemical and solvent resistance.
Accurate bonding and weathering characteristics
It has a low permeability to the outside environment.
The finish retention of this coating is exceptional.
Limitations of Glass Flake Coating on the Internal Surface:-
Only 10 bar of pressure can be applied to this coating, which is temperature and pressure-dependent.
Use with caustic fluids or slurries is not recommended.
Soreness of the skin may result.
To keep this coat in good condition, it must be reapplied at regular intervals, and the process of chalking takes a long time.
Only three to four years is the maximum useful life expectancy of a design.